Machinery Pete: Hot Buys in a Pandemic World
July 30, 2020
20/20 vision is great. The calendar year 2020 — not so great. In fact, it's been awful. Yet it's been amazing to watch what's been happening in the used farm equipment market.
COVID-19 shut down live on-site farm auctions in late March, which is the busiest time of the year for sales. But, more than 15 years of online bidding prepped the auction space for the jump into the future. Sale prices didn't miss a beat. Here are a few of the hottest spots I've seen in the used market:
Retrofit planters. The geography and soil type must be right, but when the stars align the bidders are there. These used planters made into like-new go for way less money versus new.
Small horsepower tractors, ATVs/UTVs, garden tractors. Call this one the odd COVID-19 effect on the used equipment market. Folks with hobby farms who are forced to stay home are redirecting dollars from going out to eat or on vacation toward equipment. We saw an 83% increase in search traffic for garden tractors at MachineryPete.com in the second quarter of 2020. Search traffic on <40-hp tractors was up 42% in the second quarter of 2020 versus the first. Sales of new <40-hp 2WD tractors were up 19% in May.
1-to-3-year-old tractors and combines under warranty. The highest auction price I've seen on a modern tractor came via an online farm auction on June 19 in northeast Illinois: $407,000 for a 2018 John Deere 9620RX track tractor with 623 hours and limited powertrain warranty to June 2021 or 3,000 hours.
10-to-15-plus-year-old tractors with low hours. Dennis and Lona Larson's farm retirement auction July 16 in Sherburn, Minn., featured a beautiful 2005 John Deere 8420 tractor with 2,051 hours, pre Tier IV and pre DEF. It sold for $133,000, which was the second-highest auction price on an 8420 in 5½ years. Kevin Kahler with Auctioneer Alley told me: "Pete, we had calls from all over the U.S. It was a huge crowd for a smaller auction, with over 400 registered bidders live and online. That 8420 was the biggest interest on any tractor we've had in a long time." That's a premium auction price, but still so much cheaper versus new.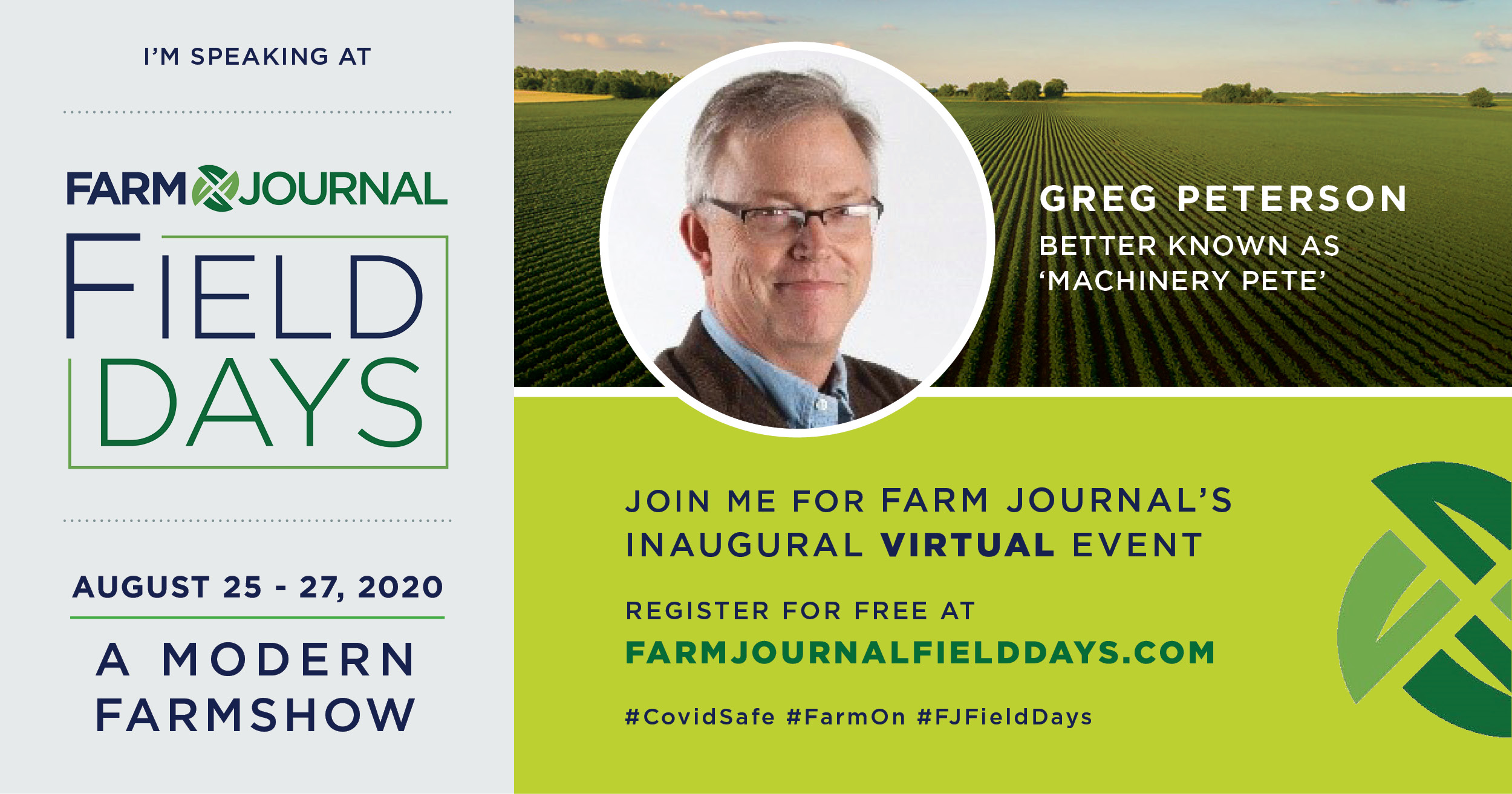 Greg Peterson will be talking used farm machinery trends at the first-ever Farm Journal Field Days, Aug. 25-27. Register for FREE now to attend!
---
Greg Peterson is the most trusted name in farm equipment. Visit MachineryPete.com, for his latest analysis as well as equipment listings from dealers and equipment for sale at upcoming auctions.
Back to All